"LET'S MAKE IMPRESSIVE TEACHING SOLUTION WITH ICE BOARD E SERIES.
In the digitalization era, the eye of digital product is inevitable, one of them is education field in Indonesia, which has begun to follow and adapt to the online learning system, equipped with the presence of Science, Technology, Engineering, and Math or better know as STEM Apps, the effectiveness of delivering learning materials is maximized and cost-effectively done.
There are learning modules for Biology, Physics, Chemistry, and various educational games.
With the come up of ICE Board E Series, it is a solution to support the digitalization of learning that can support hybrid systems in Indonesia. The ICE Board E Series has supporting tools that facilitate smooth learning process, such as pens, various learning models, and screen record software.
There is a whiteboard widget and 18 hotkeys buttons available on both sides of the screen that make it easy for users to operate ICE Board E Series. Hybrid systems are becoming a familiar system in the field of education, learning support tools are increasingly needed when the hybrid teaching process take place.
ICE Board E series supports collaboration with video conferencing software, so that hybrid system implementation can be done. With ICE Board E series, unlimited broadcasting material can be done wirelessly through operating systems Android, windows, chrome OS, MacOS, and iOS.
ICE Board E series is available in 65 inch, 75 inch, 86 inch, and 98 inch with 4K UHD resolution , 20 point touch support, comes with android and windows operating systems.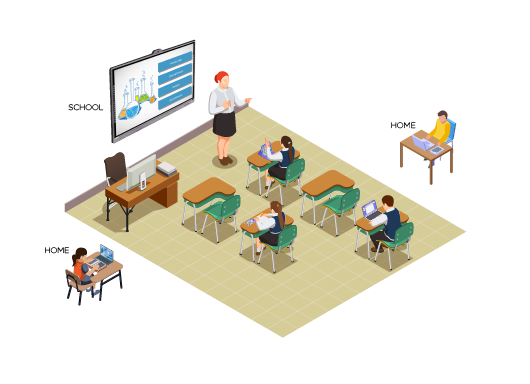 Hybrid Teaching Solution


Collaborative distance learning in or outside the classroom
Cloud-based virtual classroom
Built for collaboration and instruction
Remote administration platform
Take collaborative learning to the next level



Floating bar with intuitive UI design
Adopt the newly designed floating menu bar
with intuitive UI. Movable hotkeys are provided
for users to easily control the interface.
Start what you want to do in the shortest time.wherever we are.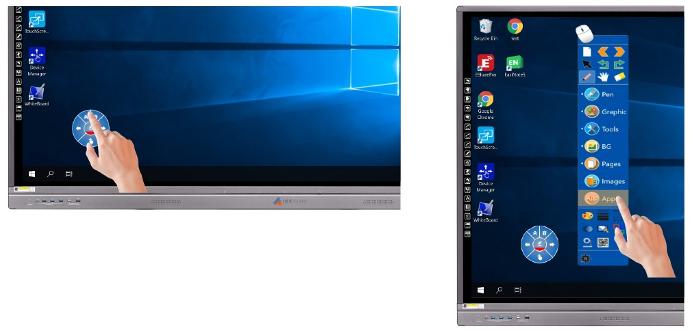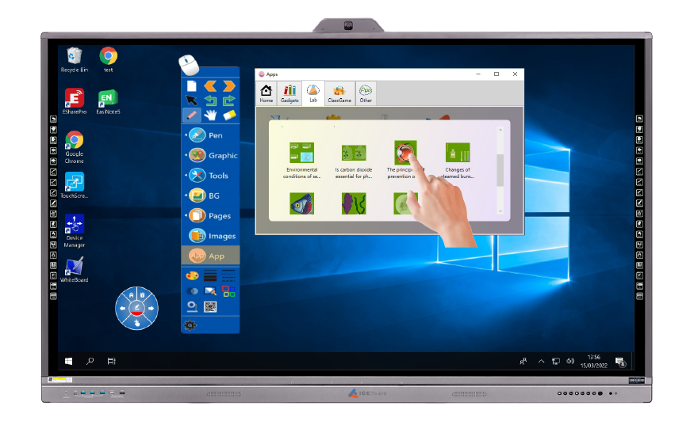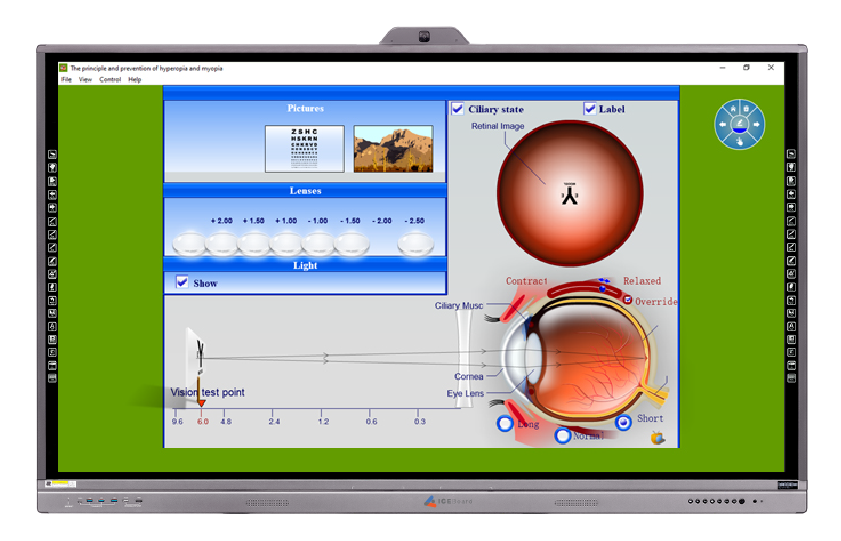 Bundled with STEM education software
from Interactive Whiteboard Apps

As a new model perfect for education market, ICE Board E Series
is bundled with our self-developed Whiteboard Software to facilitate
interactive teaching. Abundant subject tools and resources are available for teachers to create an engaging class environment.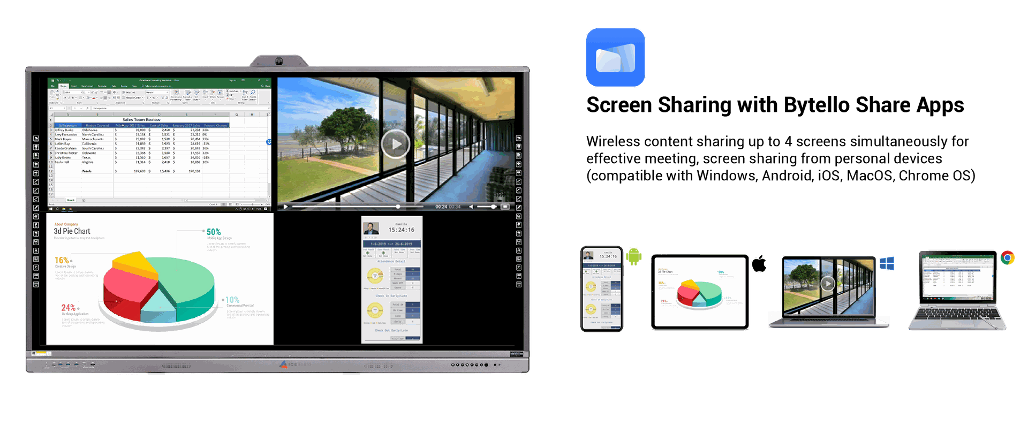 Extended Screen


Your work screen can be shown on a large screen with HDMI out port on the OPS.

Video Conference
Connect anytime and anywhere with video conferencing
software can be implemented to ICE Board easily.
Features
Write, annotate, and draw with accurate touch and smooth writing experience.
Screen sharing from personal devices (compatible with Windows, Android, iOS, MacOS) up to 4 screens simultaneously.
Take screenshots easily from any software displayed on the ICE Board.
Anti-glare tempered glass screen.
Available option for using OPS Pluggable PC (Intel i5).
Quick switch between Android & Windows OPS PC.
Supports many video conferencing software.
Record Facilities
Software STEM (Science, Technology, Engineering and Math).

ICE Board E Series Specification